The Who's PA:

Microphones
From the Rock and Roll Hall of Fame installation for Bob Heil, a Shure 565D Unisphere I microphone from 1971/72, with gaffer tape still in place.
It should also be noted that Roger (along with the rest of the group) has been an avid Shure microphone user virtually his entire career, using the following models:
Shure SM-58
Shure SM-78 (1981)
Shure model 565D Unisphere 1
Shure model 548 Unidyne IV
The rest of the band have used Shure SM-58 for vocals until recently, using Shure Beta 58s or Shure Beta 87As. For instrument application, Shure SM-57 or SM-58s or Shure 548s, with Sennheiser 421 for the bass rig in the late '70s/early '80s.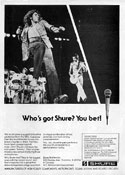 Click to view larger version. Ca. 1977, Shure ad: "Who's got Shure? You bet!" Courtesy Martin Forsbom.
Super Bowl Halftime Show, February 2010
For the Super Bowl, the Who used new Shure models for instrument microphones, the KSM313 ribbon studio condenser on Pete's and Simon's amp rigs.
From Shure release: "The Who Rock Super Bowl XLIV With Shure":
All microphones on The Who's stage were Shure hardwired. Ranging from Roger Daltrey's classic SM58®, wrapped in trademark white gaffer tape for strain relief, to new models like the KSM313 ribbon mic and KSM44 studio condenser on Pete and Simon Townshend's guitars and Pino Palladino's bass. Zak Starkey's drum kit used the SM91A boundary mic in kick drum, Beta 98s on toms, Beta 56®A on snare, KSM137 on hi-hat, and a combination of KSM32s and KSM44s overhead. Backing vocals are by Pete Townshend, Simon Townshend, and John "Rabbit" Bundrick; all sung through Beta 58A® microphones.

The Who used four channels of the new PSM 900 personal monitor system in their performance. Lead singer Roger Daltrey, guitarist Simon Townshend, and drummer Zak Starkey, along with monitor engineer Simon Higgs, used the PSM 900.
Click to view larger version. Shure ad, courtesy Martin Forsbom.
Excerpt from 1999 On Tour With Shure interview with Roger Daltrey
I've been with Shure since the Detours. The SM58, well it's the best microphone any singer in a rock band could ever wish to have, especially in the early days of The Who. I mean we were getting drums smashed over our heads. I'd be slamming my mic into cymbals … we didn't get our gear free then so it bloody well had to be durable. Just to let you know how tough the SM58 is, once Shure presented me with a special model. There was a small ceremony and all, and they asked me to get up and make a speech about a microphone. So I took the mike up in front of the crowd and said, "these are the best mics in the world because you can do this!" and I literally slammed it on the floor with as much force as I could muster. The crowd just sat there in horror. I bent over and calmly picked it up and carried on speaking. It was still perfect. Now if you're someone from Shure, you can't have a better act than that. It was a dangerous stunt to pull but it proved my point. The mic sounded exactly the same after I hurled it to the floor as it did before. What more could a rock singer need?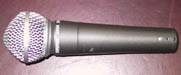 Click to view larger version. Roger's Shure SM58 from 1989, courtesy whocollection.com.
Click to view larger version. Ca. 1977, Sunn ad, courtesy WhiteFang's Who Site.
Shure 1977 ad text: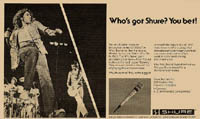 Click to view larger version. Ca. 1977, Shure ad: "Who's got Shure? You bet!" Courtesy WhiteFang's Who Site.
Who's got Shure? You bet!

We've all come to expect innovative perfection from the Who. Ever since their first record blasted it's way into Britain's Top Ten in 1965, The Who have been pioneering rock style — from Pop Art clothes to the rock opera "Tommy". They've even made a new art out of playing Shure microphones.

Why Shure mics? They're the rugged ones with the natural sound. And that's important for a group that draws its legendary stage aura from a unique combination of lyric sensitivity and hard-driving instrumentation.

You, too, should expect perfection. Ask your Shure dealer for a demonstration today.

Shure Brothers Inc. 222 Hartley Ave. Evanston, IL 60204
Shure 2009 'Reason Why' ad campaign: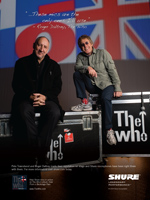 Ca. 2009, Shure ad: "Who's got Shure? You bet!"
Press release:
Legendary Rockers Daltrey, Townsend Reveal The "Reason Why" They Use Shure Microphones

Roger Daltrey and Pete Townsend [sic], founding members of legendary British rock band The Who, have used Shure microphones onstage for more than 40 years. Their energetic live shows are often highlighted by Daltrey swinging his microphone — a standard Shure SM58® — over his head in wide arcs. Now, the rockers famous for punishing their equipment explain their loyalty to the microphones that have been taking it for so long in the new Shure "Reason Why" advertising campaign.
Ad text
"...These mics are the only ones I'll use." — Roger Daltrey, The Who

Pete Townshend and Roger Daltrey made their reputation on the stage and Shure microphones have been right there with them. For more information visit shure.com today.

Hear Shure mics in action on The Who's album View From a Backstage Pass.
Resources and Information