Quadrophonic PA and Mavis desk whereabouts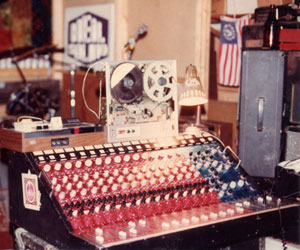 Details on former Who Quadrophonic MAVIS desk courtesy Kurt Schrotenboer.
1973–1974-era details
For the Quadrophenia tour, a quadrophonic PA, involving speaker columns set at the rear of the hall, was used for the "storm and sea" sound effects from the backing tapes. According the Who Concert File, the additional speakers "provoked many complaints from the audience about their vision being blocked." (For the 1974 tour of France, the quadrophonic PA was curtailed.)
The Heil-built PA of 1971–72 was still used, with the following additions:
Four Heil troughs (combination front- and rear-loaded cabinets with two Heil 12

″

woofer/tweeters in each)
Four 16-foot folded horns
Six Heil PFLs (ported, front-loaded cabinets) each with JBL 2205 1x15

″

An additional four Crown DC-300As
Audio tape playback
Scully 4-track studio deck (at stage-left, controlled by Bob Pridden), with a remote variable speed control taped to PT's monitor stack.
MF:

Is it true that Pete asked you to build a quad PA for the Quadrophenia tour?

BH: Well, after we finished Who's Next, this would have been about '73, he called me one day and said, "I need to talk to you, so come over here (to England)." So I got on a plane and went to London.

Pete said, "I'm hearing this thing with four guys, one in each corner. Do you think you could build a PA so we could move Roger's voice around the arena?" I said, "Yeah, we'll have to put some speakers in the back but we can do that." He said, "You go build it, I'm gonna go write it." He knew that we could make it sound good and that's what we did.
From December 2008 Performing Musician interview with Bob Heil: The Night That Modern Live Sound Was Born:
The experience created a bond between Heil and Who guitarist Pete Townshend, who called on Heil to make manifest the quadraphonic sound system he envisioned for the live tour on the heels of the release of the Quadrophenia LP. "It worked," says Heil. "We set up two 15-channel Mavis consoles together, put speakers in four corners and we were able to fly Roger's [Daltrey] voice around the room. When we did Madison Square Garden with Quadrophenia, the PA was enormous. I think we had on each side six to eight 15-inch speaker bins, six to eight radial horns, and about a dozen tweeters. We could get about 110dB to 115dB on that stage before feedback. And the Who loved it, man, because it was loud, and they loved loud."
Front-stage wedge monitors (1974)
The advent of true front-stage foldback as we know it today: wedge monitors placed at the front of the stage for vocal foldback appear regularly in 1974, with one on each side of the stage.
Bob Heil on The Who's use of monitoring:
We actually were the first sound company to use monitors in a major way. Nobody had figured out how to make them work at high levels without feedback. Heil Sound was the first to do that — apparent in that monster array John Entwistle is standing beside at Madison Square … there was a mirror of that on Pete's side!! Peter and Roger hated floor wedges … it hindered their jumping, running, etc. … so they were not in vogue with them, so I devised a way — through out-of-phased microphones, amplifiers, speakers, etc., to get high level from the sides.

When I left the road scene in 1977, they had to put up with SHOWCO's wedges … lots of them, as they never could figure out how to get the level from the sides. So as you can see from some of the pictures, they stacked speakers in front of the stage like crazy to get the level that Pete needed — as he was pretty much gone in the hearing department after 4K.…
"We got into the monitor thing out of necessity," Bob says. "Pete Townshend and Roger Daltrey really needed all this to happen, so we built them some massive systems. We started putting fiberglass in the speaker cabinets, because it wouldn't resonate like plywood or the other materials people were using. We wanted a really dense material to work with, and that's why we chose fiberglass — it gave us an edge up on the speakers themselves. But we had to do it in a big way. I remember when we did Madison Square Garden with Quadrophenia. We had more stuff on just the stage than most people had in their entire PA. It was enormous. I think we had, on each side, 6–8 15 bins, 6–8 radio horns, and probably about a dozen tweeters; we could get about 110–115dB on that stage before feedback. And The Who loved it, of course, because it was loud. And they were loud, if not the loudest."

The feat of amassing a system of monitors had been overcome years before, but there were problems still plaguing the team, and the entire world of sound in general, as Bob remembers. "The monitor was always the big problem. Nobody had really been able to make the monitor work before: They fed back all the time. You would have a mic about three feet from the monitor while these guys were playing louder and louder; and the next thing you knew it was total feedback city, and it seemed like nobody could get it all happening the way it really needed to happen."

The key, as Bob had learned much earlier on, lay in the realm of phasing. "Back in my ham radio days, around 1960, I had put up a monster antennae; 4 feet by 40 feet and hoisted 50 feet in the air. It was a monster antennae of 128 elements; different elements that all had to be phased. So I learned about phasing monitors through phasing antennae." Little did Bob know that in 1960, playing with radio frequency, that something would occur that would change his, and our, lives not much later down the road.

"I had brought in these monitors and started thinking 'wait a minute I can start playing with phasing' . . . and I did. We would run the microphones out of phase from the monitors, something that nobody had been doing yet. Since they were out of phase from the mics and the front systems, we could get these things incredibly loud before they would feedback." The key to the golden lock was phasing, as Bob relays to everyone he instructs. "That's one of the things that Jerry Garcia was really in love with. Our monitors were really something; and we got those guys into doing all kinds of phasing tricks with the monitors and mics. As you know, a lack of phasing equals no sound; so it's all very important — the placement of monitors, the types of microphones, and having it in the right phase or the wrong phase."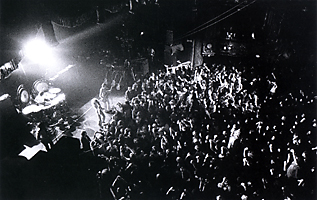 Ca. November 1973, the London Lyceum, with top view of stage setup and PA stacks at stageside. Courtesy thewhothismonth.com.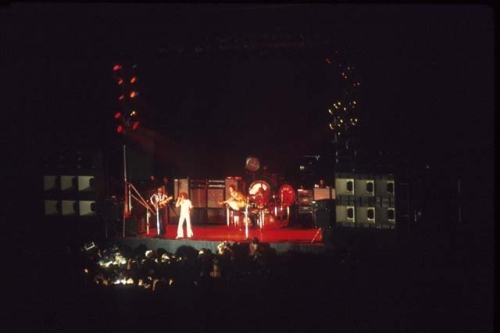 20 Nov. 1973, at the Cow Palace, San Francisco, Heil/Sunn PA front-of-house bin stacks with white horn bells.

25 November 1973, Dallas, full view of stage setup and front-of-house Heil/Sunn PA bin stacks with white horn bells.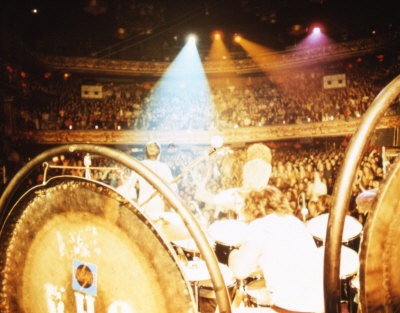 Ca. 1973, view of rear ("Quadrophonic") PA speaker stacks at back of hall.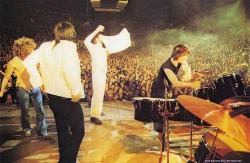 Click to view larger version. November 1973, view of rear ("Quadrophonic") PA speaker stacks at back of hall (next to Pete's elbow).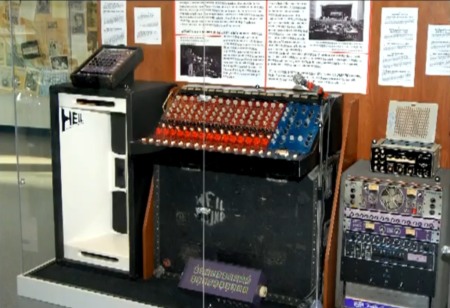 Mavis ("Quadrophonic") desk, and Heil rear surround PA speaker from back-of-hall setup (plus a Shure microphone), on display at the Rock and Roll Hall of Fame installation for Bob Heil. See Mavis Quadrophonic Desk for more info.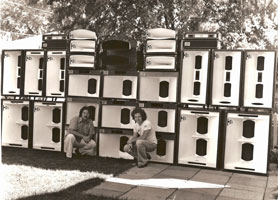 Heil PA bins with white horn bells. Photo courtesy Lee Phillips.
December 1973, at Boston Garden, stage-right Heil/Sunn PA sidefill monitor stacks with dark horn bells.
Ca. 1973, stage-right Heil/Sunn PA sidefill monitor stacks with dark horn bells.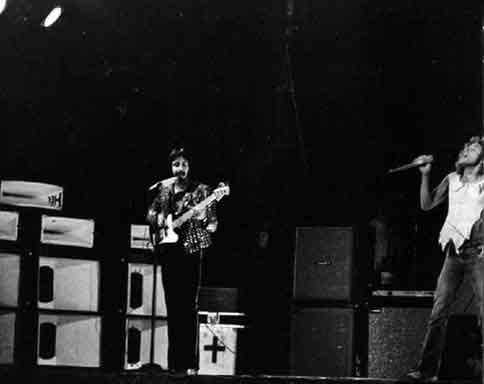 14 June, 1974, at Madison Square Garden, John in front of Heil PA sidefill monitor stacks with white-painted horn bells. Photo courtesy Dave Kleinwaks.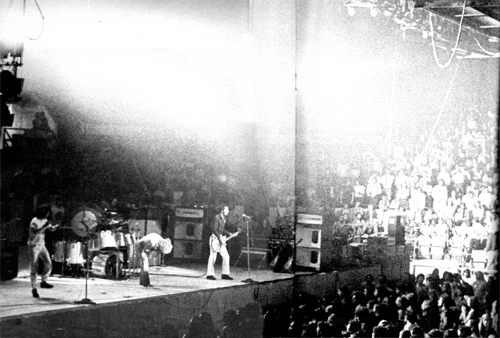 Ca. 1974
Resources and Information
Acknowledgements
Special thanks to John Hughes (john@pureneasy.fsnet.co.uk) for assistance with this page.
Sources and related sites:
Articles
"Rock hall hails Heil's wizardry. Metro-east native created equipment for stars." From the Belleville (Illinois) News-Democrat (archived version), Tuesday, 9 May, 2006
"Bob Heil: A Living Live-Sound Legend," from Musician's Friend, May 2006
Guitar Player: The Who's Sound System. How it grew from 200 to 75,000 watts. By Steve Caraway and Tom Wheeler. November 1977.
Manufacturer's sites