Keith Moon's Drumkits:

1970–1973 Black Premier kit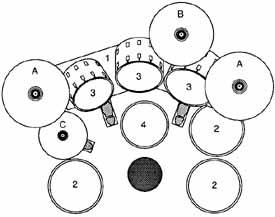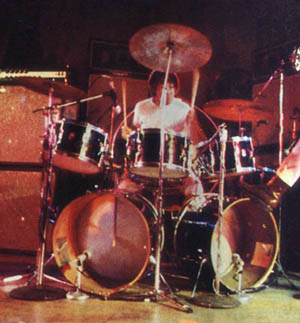 1972
1970–1973 – Premier black kit
Likely the same specification as the "Pictures of Lily" kit — in black. Used onstage beginning early 1970 until March 1973.
Timeline
First known date used:

26 March 1970 – Top of the Pops.

First (likely) stage date used:

18 April 1970 – Leicester University, Leicester, UK.

Last stage date used:

10 March 1973 – Sporthal de De Vliegermolen, Voorburg, Netherlands.

Last studio date used:

Summer 1973 – Ramport Studios.
Specification
Mahogany, finished in black. Likely with Gretsch fittings, Rogers Swiv-O-Matics tom holders.
Included metal plates inside and custom "iron cross" metal plates on the exteriors of the bass drums for added strength.
Drums:
Premier Custom Built (mahogany)
Two 22

″

x 14

″

bass drums
Three 16

″

floor toms (two 16

″

x 18

″

; one 16

″

x 16

″

)
Three 14

″

x 8

″

mounted toms
14

″

x 5½

″

snare drum
Cymbals:
Paiste Classic 2002 with black logo
20

″

ride
18

″

crash
14

″

hi-hats (not used on stage)
Various Symphonic gongs in ca. 30″ – 38″ sizes
Stands:
Premier LokFast with boom fitments.
Bass Pedals:
Drumheads
Premier Extra heads on tom toms, floor toms and bass drums.
Whereabouts
Unknown. Parts likely used with the subsequent black Premier double tom row kit.
Photo Gallery
1970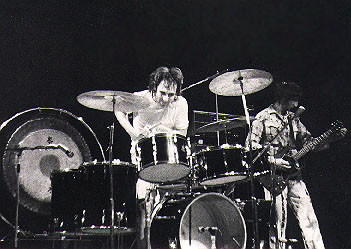 20 Sept. 1970, Falkoner Centeret, Copenhagen.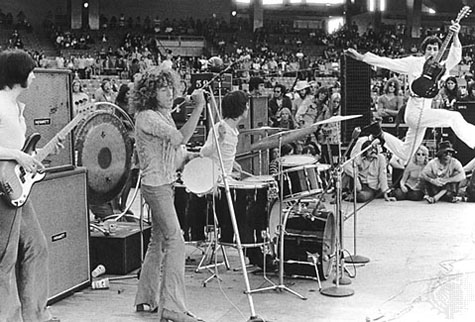 14 June, 1970, at Anaheim Stadium, Anaheim, Calif., showing gong stand on road case.
1971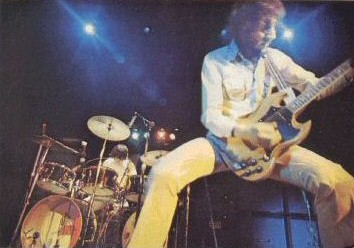 Ca. December 1971.
Ca. 1971.
Late 1971 stage setup, showing two Hiwatt column monitors behind the drumkit.
1972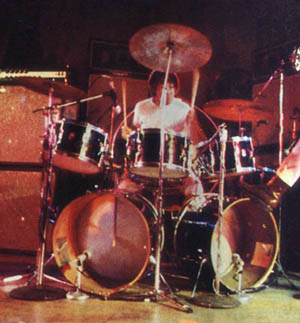 1972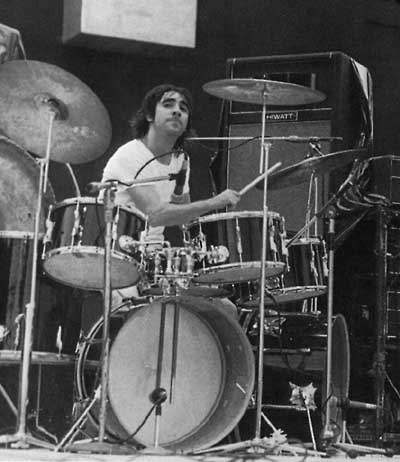 9 Sept., 1972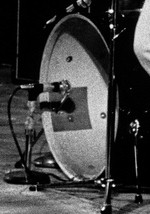 Closeup of bass drum showing metal reinforcement plates. These are not standard, but added for extra strength.
9 Sept., 1972, with headphones.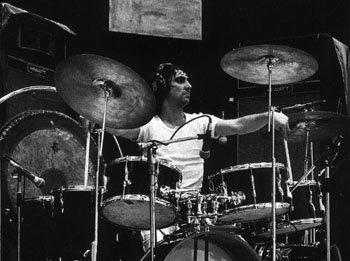 9 Sept., 1972, with headphones.
Click to view larger version. 9 Sept., 1972, rear view of drumkit.
Click to view larger version. 9 Sept., 1972, closeup of kit.
1973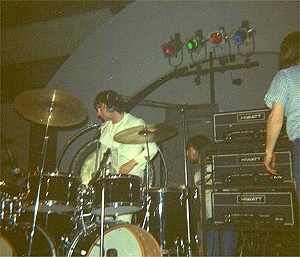 10 March 1973, Voorburg, last stage use of black Premier kit. Courtesy The Who Netherlands Photo Gallery (offline). ©Henk Hulstkamp.
In the studio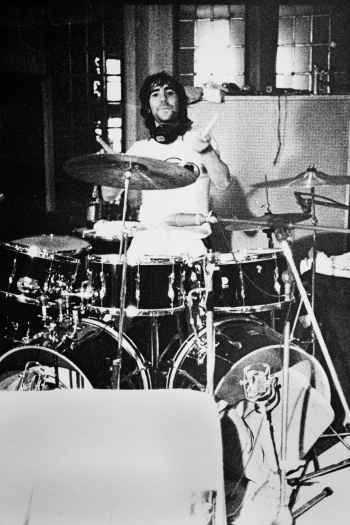 May 1973, Stargroves, recording with the black kit. Photo courtesy Simon Bedford. See Simon Bedford's photo stream on Flickr.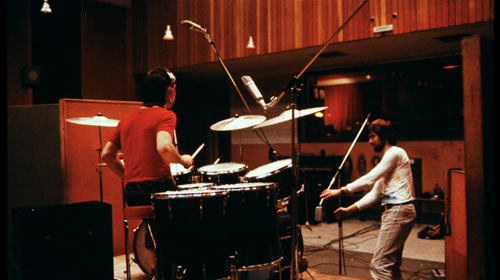 Summer 1973, Ramport, recording with the black kit.
Museum display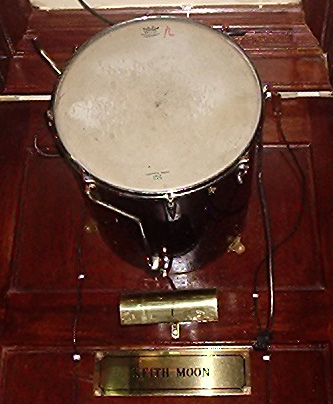 Floor tom on display at the Hard Rock Café in Honolulu. Martin Forsbom
Alternate snare drum
Gretsch DRB Special snare drum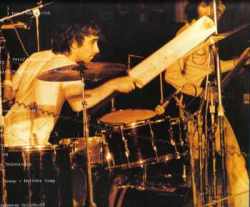 Click photo to view larger version. Oval Cricket Ground, London, 18 Sept., 1971, Keith "clubbing" a Gretsch DRB Special wood-shelled snare.
Here's a Gretsch DRB Special snare drum Keith had that is now owned by Donn Bennett, a drum shop owner. Keith used these drums in 1971, as evidenced in photos from the Oval gigs in 1971.
This is a story from Bob Henrit about this drum, which Bennett also refers to:
"He'd say, 'Dear boy, come and have a sit in the car'. He'd play Who music for me. He'd say, 'Dear boy, have a drink', and hand me a bottle of brandy. One day he showed up and said, 'Dear boy, open the boot [trunk]'. There were all these snare drums there. He said, 'I don't need them any more; do you want them?' Once he offered me one of his DRB specials, a Gretsch, done in New York. As I recall, it was a Walnut drum with a silver badge. I was too embarrassed to take it. Now I wish I had."
Donn Bennett:
I got the drum from Alan White (Yes). He played in a band called Bell and Arc right before he joined Yes. Bell and Ark did a world tour with the Who in the early '70s. Keith gave Alan the snare drum after the last show of the tour. Either Modern Drummer or Drum! magazine did an issue dedicated to Keith sometime in the last five or so years. There was a sidebar interview with a guy named Bob Henrit who played in Argent and The Kinks and ran a drum shop in London in the '70s. He specifically mentioned the drum and mentions the DRB Special plaque on the side of the drum.
See Additional note on headphone usage starting in 1971.
Resources and Information
Contributors:
Many thanks to the following, who have made this page possible:
Additional information:
Bibliography:
Drums & Drumming magazine, October/November 1989.
Modern Drummer, September 2003.
Moon, the Life and Death of a Rock Legend, by Tony Fletcher. 1999.
Manufacturers' sites