Keith Moon's Drumkits:

Miscellaneous Notes
Miscellaneous notes about Keith Moon's drumkits and accessories. Please note, endorsements and signature series can now be found in the new Keith Moon's Endorsements and Signature Series page.
Table of contents
Navigate to an item or just scroll through
Additional notes
Keith favoured Ludwig Supraphonic 400 snares although he had a soft spot for Gretsch chrome-over-brass snares. Keith's favourite Gretsch wood shell snare was the "Gretsch DRB Special."

Roadie Mick 'Doc' Double:

"I had about six — they were quite a rare bird even in those days. We used to have several set up around the back on stands."

Early on, Keith would tape and rope his kit together and nail it to the stage floor to withstand the abuse.
The kits, including the double tom holders, had steel structural supports and were clamped to the floor to withstand the abuse.
The hi-hats, when used on the stage, were usually set at half-open.
The third floor tom — set up on Keith's left — was usually used for for setlists, drumsticks, drinks and towels.
Sticks
Update: Christie's auctions Keith's drumsticks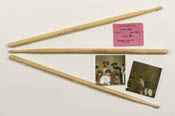 Click to view larger version. Keith's AJAX E drumsticks, for auction at Christie's. © Christie's.
On 5 May, 2004, as part of its Pop Memorabilia sale in South Kensington, Christie's auction house sold three of Keith's AJAX E drumsticks, as used in concert at the Cirkus-Teatern, Gothenburg, Sweden, 3 May, 1967. The sticks realised £960. They were estimated at £800–£1,200. (In 2004, Christie's auction of a portion of Keith's silver Premier kit realised £120,000 [approximately $215,772], a world auction record for a set of drums, according to Christie's International.)
Christie's description:
Lot 178

Three wooden drumsticks stamped in blue AJAX E, used by Keith Moon during a concert at the Cirkus-Teatern, Gothenburg, Sweden, 3 May, 1967, one stick signed in red felt pen Keith, all — 16in. (40.7cm.) long; accompanied by two colour snap-shots [printed later] of Moon performing on stage taken during the Gothenburg concert, both — 3½ x 3½ in. (9x9cm.); a ticket stub for the concert; and a note from the fan who obtained the drumsticks confirming the provenance.

In the accompanying note, the fan who attended the concert where these drumsticks were obtained comments … Keith was as usual working like a mad-man and the drumsticks were flying all over the stage and audience … the day after the show he signed one of them.
Information and photo © Christie's.
For further information, see christies.com/LotFinder/search/LOTDETAIL.ASP?sid=&intObjectID=4480789.
Moon used light sticks with matched grip, plus some unusual grips at times, and the mallet end often. — Kenney Jones
At some point Keith used Premier C drumsticks.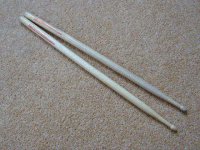 Click to view larger version. Keith's Premier "C" size sticks, courtesy rockstarsguitars.com.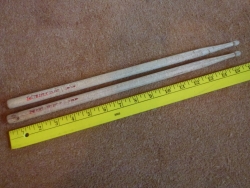 Drumheads
Keith used Premier Everplay Extra drumheads. Made by Premier in their factory since 1957. They were only made with a smooth white finish, almost transparent. They were one-ply heads and made of plastic.
Cymbals
News (14 June 2011): Christie's auctioned this cymbal as part of its Popular Culture: Rock and Pop Memorabilia sale, held on 14 June 2011. The item is currently owned by Brad Rodgers of whocollection.com. Realised: £2,375 ($3,855).
The Who / Keith Moon

A Paiste cymbal formerly owned by Keith Moon — diameter 14in. (36cm.); accompanied by a copy of a letter concerning provenance.

£800–1,000 (US$1,200–1,500; €900–1,100)

Provenance

From the collection of Brad and Diana Rodgers of www.whocollection.com

According to the letter the cymbal was given to the current owner by Mr A G Harrison (Bill), who in his capacity as Road Manager for the Who was given this cymbal, amongst other items, by Keith Moon.
Realised: £2,375 ($3,855)
For more information, see christies.com.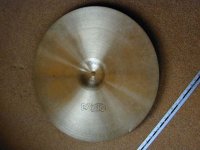 Click to view larger version. Keith's Paiste 24″ 2002 crash cymbal, serial no. 730377, courtesy rockstarsguitars.com.
Moon mainly used Paiste cymbals, but was known to occasionally use Zildjian. He first used Paiste in the late '60s. The issue was not the brand of the cymbals, but the durability. If a certain cymbal broke, a thicker one was bought.
He is known to have used Paiste Formula 602 crash cymbal, which is mainly used in jazz.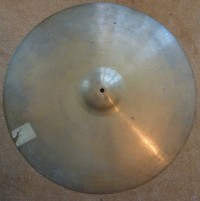 Kick pedal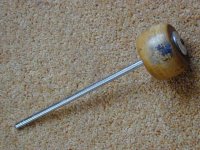 Click to view larger version. Keith's Ludwig bass drum pedal wooden beater, courtesy rockstarsguitars.com.
His favourite pedal was the Premier 250.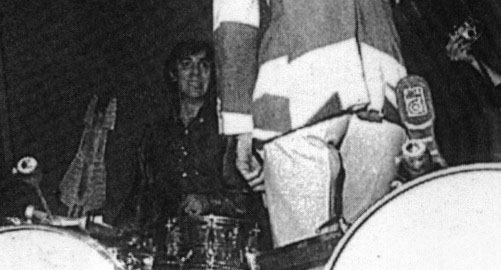 Ca. 1966, Sweden, upended bass drums from Premier kit, with 250S pedal, left, and 250 pedal, right.
Drum construction wood
Premier drums from that period were either three-ply birch or three-ply mahogany, both had beechwood reinforcing hoops (or glue rings.)
Birch was used up until about 1970, then they used mahogany up until about the mid-'70s, and after that they went back to birch.
Birch is a lightish-coloured wood while mahogany is a dark, reddish brown so it is quite easy to tell them apart.
The first black set and the white and gold set are mahogany. The mahogany used was expensive African mahogany, not the Philippines stuff that cheap drums are made out of these days.
Claves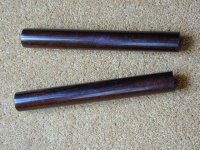 Click to view larger version. Keith's stage-used claves, courtesy rockstarsguitars.com.
As heard on stage versions Magic Bus, Keith's stage-used claves.
Headphone usage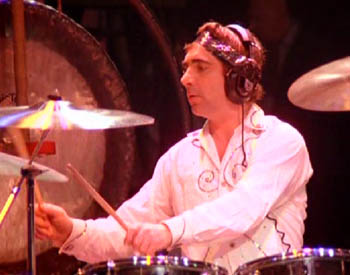 1978, with headphones taped down.
Keith started using headphones on stage in 1971 for certain numbers, which he taped to his head with gaffertape, so he could hear the backing tape for Baba O'Riley and Won't Get Fooled Again.
I:

When did you pick up on the headphones?

KM: 'Bout halfway through the tour. The big problem was not being able to hear the tape. So we've got John and Pete blasting away and this tape, which is important because they take their thing off of me. I get mine off the tape so if I don't get that, we all go and lose it.

I:

Yeah right. Pete says that he plays with your top kit and John plays with your bass.

KM: Right. And I play with the tape. If the tape isn't there, none of us are there. So we got the earphone idea, we were playin' some theatres where the monitors just couldn't be heard at all. It happened that first night at Forest Hills.

I had a couple of pairs catch fire. I was wearing them and Bob came rushing over halfway through "Won't Get Fooled Again" with a bucket of water. He looked as if he was gonna throw it at me. So I started to move around, turned me head and there was smoke pouring off my headphones, and the bloody thing was alight. That's what I call pyrotechnics . . .
On a couple of numbers onstage, The Who use a taped synthesizer part. Is it difficult to cue and keep time with?

No. What I do is keep a sort of metronomic beat, because a synthesizer is metronomic. Once you start it and you're working with it, you've got to pull yourself in a bit. Be a bit stricter and tighter. The difficulty was when we first started using it, I tried to try to slightly increase the tempo where I felt it needed a lift and then bring it back, but of course you can't do that with a synthesizer. You're stuck with this metronome. The only other way I could do that was with the drums. When I felt I needed a lift, instead of speeding it up a bit, I'd change the sound of the drums by using something else. The effect would be there — the same as speeding up.

What do you get through the cans?

I get synthesizer and I get straight chords. The tape is played out on stage as well, so I get the same as comes out on stage. The chords are mainly for Pete, so he knows where he is.

It is very difficult to explain in words because it's a complex matrix. The machine itself is mathematical. There's no lead-in, so all I do basically is keep in my head the phrase where I come in. It doesn't make sense to come in where I do on the cans, but overall, it does … hopefully. The synthesizer dictates the tempo all the way through. Every number I use the cans on, it's metronomic, totally.
Resources and Information
Contributors:
Many thanks to the following, who have made this page possible:
Additional information:
Bibliography:
Drums & Drumming magazine, October/November 1989.
Modern Drummer, September 2003.
Moon, the Life and Death of a Rock Legend, by Tony Fletcher. 1999.
Manufacturers' sites