Pete's Gear:

Lowrey Berkshire Deluxe TBO-1 organ:
Baba O'Riley/Won't Get Fooled Again 'synthesizer' sound
Pete, on the organ sound for Won't Get Fooled Again and Baba O'Riley:
I used gated Lowrey organ via EMS VCS3 gated filter. No sequencer. I got my ARP 2500 system (huge) just after I'd recorded the first few demos for Who's Next. Baba O'Riley was a cheat. I couldn't get the sequencers and mix-sequencers on the ARP under my fingers fast enough so I emulated sequencing and tape delays using the Marimba Arpeggiator effect on my Lowrey Berkshire.
From Rich Rowley:
Equipment used: Lowrey Berkshire Deluxe TBO-1 organ from 1968.
Baba O'Riley
I'd always thought this was programmed into Pete's huge modular ARP 2500 synth/sequencer. It certainly sounds like it could have been! It's hard to believe that the sound we hear on Baba O'Riley is really a Lowrey home organ. The model Pete used was a TBO-1, but for anyone wishing to recreate Baba O'Riley, just pick one up the following models to do the same job: TLO, DSO, TLS, TSO 25 and HR and GAK (seems to be the nearest). Pete is using a setting called "marimba repeat." This is different from a normal repeat effect in that certain notes are repeated either on or off the beat creating a much more complicated repeat pattern. For example the following group of notes sound on the beat when these keys are held F-G, B-C#, and these other notes G#- A#, D-E repeat off the beat creating the alternating pattern heard on Baba O'Riley. In addition, a setting called Wow-Wow is used, much like a guitarist's wah-wah pedal. It's not that obvious in the Who's Next version as it's only being used as a tone control; but in Pete's original demo, the effect is used in the regular way. It's often been reported that Pete recorded the part at half speed, making playback sound fast and frantic (Terry Riley often did this), and again sounds possible but it is performed in real time. If you get the chance to try one of these organs, hit that marimba repeat tab and you will quickly realise how it inspired Pete to come up with this fabulous keyboard part.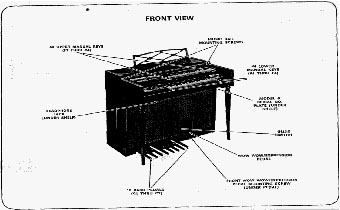 Pete is playing block chords spread between the two keyboards of the 1968 Lowrey Berkshire Deluxe TBO-1 organ. The output of the organ is fed into the audio input of the EMS VCS3 mk1 synth. The first bit of processing to be applied to the organ sound is a low-frequency oscillator (LFO) controlling the frequency of a voltage-controlled filter (VCF), using a sine or triangle wave shape. In other words, the synth is turning the tone of the organ from mellow to bright, up and down automatically.

Step 2 has the output of Step 1 being fed into a voltage-controlled amplifier triggered by a square wave LFO. This means the VCS3 is turning the volume of the organ on and off in a repeating fashion.
This organ was also used on Cut My Hair, The Punk and the Godfather and I've Known No War. It also features heavily on the Tommy Soundtrack, which also has ARP Synth programming.
For more info, see Rich's site: wbtracks.co.uk
Resources and Information
Manufacturer
Information