Pete's Gear:

1967 Vox Cheetah V267 guitar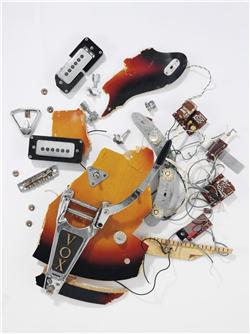 News (28 April 2010): Christie's to auction "remnants" of the Vox Cheetah, as part of its Popular Culture: Rock and Pop Memorabilia sale, to be held on 24 June 2010.
Rock Stars Guitars for sale at Christie's

A further example from Pete Townshend of The Who is a rather unusual item — remnants of Townshend's smashed up Vox Cheetah semi-acoustic guitar, following The Who's famous performance of My Generation on The Smothers Brothers Show in 1967 (estimate: £6,000–8,000). [...] Towards the end of the performance, Keith Moon set off an almighty explosion from his drumkit, which proved larger than he had anticipated, and Pete Townshend violently smashed up his guitar. The father of the vendor worked as a staff writer on the TV show, picked up the remnants from the stage, and has kept the pieces of the guitar in a labelled box ever since.
See christies.com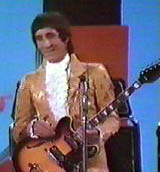 Pete Townshend's use of a sunburst 1967 Vox Cheetah guitar. As far as is known, this guitar was used once and destroyed on the Smothers Brothers Comedy Hour show, 15 Sept., 1967, at CBS Television Studios, Los Angeles (the program aired that Sunday, 17 Sept., 1967.
Instrument description from the Vox Museum:

An exquisite double cutaway electric acoustic guitar. Has built-in E tuner, distortion booster, treble and bass booster, repeat percussion. All new easy-to-fret fast neck with Vox double T-bar and adjustable steel rod. Two exclusive Vox Ferro-sonic pickups. Fully adjustable bridge. One volume, two tone controls, 3-position pickup selector.
For more information, see the Vox Museum.
15 Sept. 1967, on the Smothers Brothers show, miming through two short-lived U.S. Thomas Organ (Vox) Super Beatle amplifiers.
Resources and Information
Thanks to Jules for assistance with this page: vintageguitars.org.uk/voxCheetah.
Instrument info