PA and foldback
About this section
A basic attempt to catalogue the Who's pioneering innovations in the realm of sound reinforcement, including PA ("public address" or "power amplification") and foldback (or monitoring). As such, this section started with me documenting all I know on the topic and have relied on you — Whotabs' faithful readers with expertise in this field — to step forward and fill in the many gaps. If you've got something to add, be sure to complete the feedback form.
The Who were also pioneers in stage lighting and lasers. See the special section on The Who's developments in stage lighting.
Introduction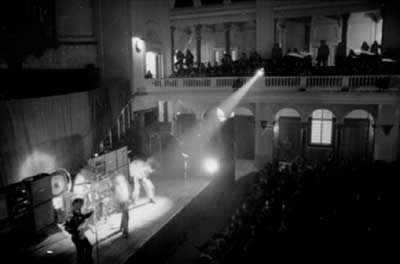 The Who, along with a select few peer bands in the '60s, pioneered concert PA ("public address" or "power amplification"), basically as we know it today though at a much different scale. Not only were they well regarded as the "loudest band in rock and roll" throughout their career — even landing in the Guinness Book of World Records in 1976 — they also insisted on the highest-quality equipment and support talent to maintain and advance their exacting standards.
This section provides an approximate timeline of developments within the Who's live setup, as well as references to industry developments. This section is a work-in-progress, as I am far from expert in this subject, and relies on you — whether expert or just observant — to keep it going.
A quote from Max the Mod (offline):
In some ways, The Who were "louder" in 1965 than they were at any other time. A lot of the dates that they played were small pubs and clubs, often in very cramped circumstances. There were no monitors in those days and the stage volume was all there was to fill out a hall, so anybody on the front row got blasted! The stage sound was just staggering and much more exciting than it was in larger venues in later years. The Who always insisted upon a good P.A. setup. Initially there were always two 4x12 Marshall cabinets, which was more substantial than any other London band. You could always hear the vocals!