1977–1978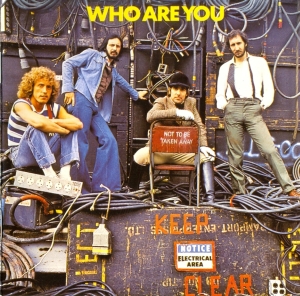 Although The Who weren't touring at this time, they'd reinvested the proceeds from the Tommy movie into various endeavors, including Shepperton Studios and PA equipment hire — the stored PA can be seen on the cover of Who Are You.
[Shepperton] serves as a home for the equipment hire company that the Who set up for their road crew, ML Executives. The Who had built up the biggest and finest collection of sound equipment of any band in the world, but were touring less and less. This expensive equipment, plus their top road crew were very much in demand by other bands, so they set up ML Executives to hire out the equipment when they weren't using it. ML added more equipment and also bought a fleet of specially adapted trailer trucks and a fleet of luxury coaches with beds, TV, showers and so on for groups to tour in.
Read more about the history of ML Executives.
1979–1980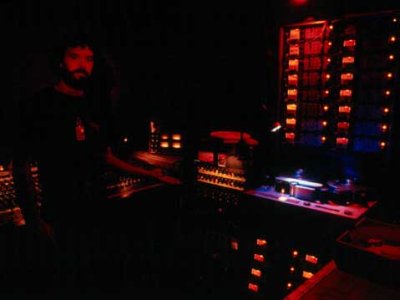 Michael Garvey, with Studer recording rig, on the 1979 U.S. tour. Photo taken by Steve Jander (Showco laser guru).
Michael Garvey:
Bob Pridden hired Showco's 24-track mobile recording Studer A80 for the infamous "Cincinnati" tour in late 1979. I was the recording engineer on that tour and not only recorded the 24-track, 2″ tapes on the Studer, but used a Showco Superboard, a Crown DC-300 and a pair of JBL 4311s to mix down an unequalized/no-effects two track straight from the read heads to a half-tracked TEAC 3340 using 10″ reels running at 15ips. The reason being that Pete and/or Roger would often come in after a show and ask to hear certain songs from the night's performance. Because of the horrible event in Cincinnati on Monday, December 3, 1979, I believe the group thought it prudent not to use the recordings and can only assume that Bob Pridden has them in a vault somewhere.
Thanks to Michael Garvey of Showco.
Notes:
18 Aug. 1979, Wembley Stadium:
...The band's official London relaunch, was attended by 77,000 fans. The Who played as consistently as they had done earlier in the year but the huge stadium didn't seem so sympathetic to the band as Charlton had done a few years earlier. The main problem was that the Greater London Council had put a restriction on the volume level and the PA system failed to carry an adequate quality of sound at the lower level. Consequently, the band sound muted and dulled, lacking the sharpness and fire for which they were famous. In addition to the restricted sound system, John Wolff's plans to present the Who performing under a breath-taking pyramid of laser light was ruined when the GLC safety inspectors instructed him to switch them off.
1981
The PA in 1981:
Amcron PSA/2 power amplifiers. Each PA speaker stack comprises: Martin Audio 215 bins fitted with Gauss 400-watt drivers; eight Martin Audio "Philishave" midrange cabinets fitted with RCF L12P/24 12″ drivers; nine JBL 2350 radial horns and a single JBL 2396 slant plate lens to provide near-field coverage — all fitted with JBL 2350 and five JBL 2355 radials, along with a single JBL 2390 crinkle plate lens — fitted with a mixture of JBL 2440 and 2441 drivers to cover the high frequencies; ultra highs covered by three boxes of four JBL 2402 "bullets."
Foldback
Three monitor systems:
A system of sidefills and floor wedges fed from a Midas 24 into 8 PR series monitor desk. The monitors were either Showco 3-way, Tasco/Harwell 2-way or Martin LE200's; the side-fills were 4560-type bins with JBL acoustic lenses on top.
A drum monitor system fed from another Midas 24/8 desk, driving two 4560-type bins fitted with Gauss 400-watt drivers and JBL acoustic lenses.
The third to replay backing tracks off tape onto the stage, from two Scully 4-track (½

″

) varispeed tape machines controlled by Bobby Pridden at stage-left, sent to two Martin stacks for stage foldback, as well as sent to the PA.
See excerpt from International Musician and Recording World, March 1981, for more information.
1982
Technically speaking, the most ambitious [tour the Who had undertaken]. More than 1,300,000 lbs. of equipment move thousands of miles in 19 tractor-trailer trucks. 50 roadies setting up and knocking down enough electrical equipment to power a small city, over and over again. 50 miles of cable, unravelled and laid out. 200 speakers set up and checked. And finally, 14,000 lbs. of lights raised to the ceiling. Townshend's and Entwistle's guitars, Daltrey's microphone, speakers, amplifiers, all run by 5 million watts of power.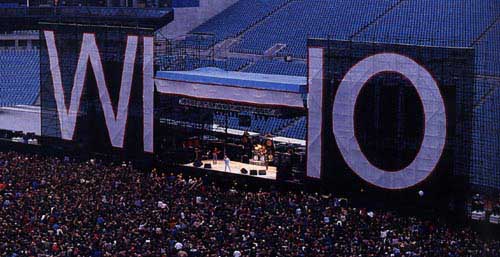 1982, stadium PA setup.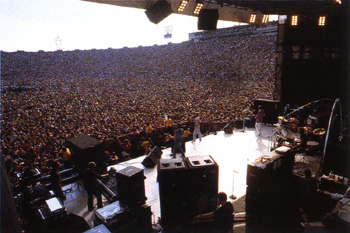 1982.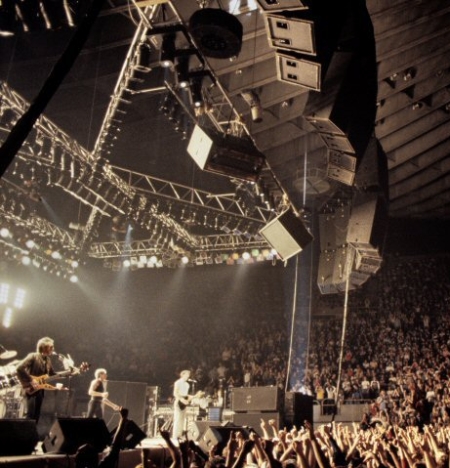 Ca. October 1982, with flown PA speakers for arena setup, plus two flown foldback monitors.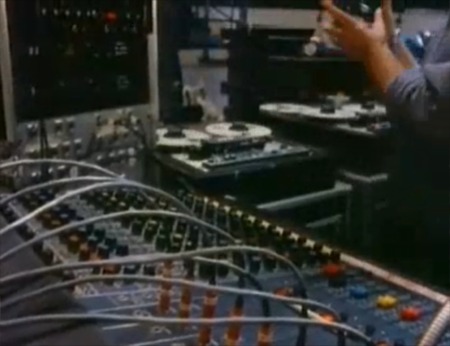 Ca. 1982, Bob Pridden's monitor mixer board, and tape recorders, right.
Following the band's breakup in 1983, the assets of ML Executives — sound equipment and trucking — were sold off to its employees.
Pete, October 1984:
"Roger Searle, Mick Double and Alan Smith of ML Executives, formed by our road crew after the Tommy movie windfall, wanted to take over the company, and we needed to establish a fair value. It was extremely difficult. It turned out that not only did we have to find a way to give this company and all its assets to our road crew, we also had to sack them and pay them a severance. The final closure was a sober moment."
Read more about the history of ML Executives.
2002 and beyond
Reference from JBL 2002 tour sponsorship:
JBL Presents The Who – Equipment.

Sound services for the tour will be provided by Clair Bros. Audio (Lititz, Pennsylvania), one of the world's leading rental-system providers. Clair Bros., which has relied on JBL loudspeakers for more than 30 years, will supply The Who with a concert audio system having in excess of 120,000 watts of amplifier power. The custom systems used by Clair Bros. feature JBL drivers and components, chosen by the company for their sonic performance, high-power-handling capability and long-term reliability.

Michael MacDonald, President, JBL Professional, added, "The Who will truly be heard at its best, thanks to Clair Bros.' state-of-the-art concert sound system, which utilizes JBL's latest and most advanced drivers, components and technologies to deliver remarkably clear, powerful and articulate sound quality, even at rock-concert levels."
Other references
Resources and Information
Acknowledgements
Special thanks to John Hughes (john@pureneasy.fsnet.co.uk) for assistance with this page.
Sources and related sites:
Articles
"Rock hall hails Heil's wizardry. Metro-east native created equipment for stars." From the Belleville (Illinois) News-Democrat (archived version), Tuesday, 9 May, 2006
"Bob Heil: A Living Live-Sound Legend," from Musician's Friend, May 2006
Guitar Player: The Who's Sound System. How it grew from 200 to 75,000 watts. By Steve Caraway and Tom Wheeler. November 1977.
Manufacturer's sites