Early 1971, additional WEM column speaker cabinets bolster side-stage foldback.
On the 1971 U.S. tour, Hiwatt foldback behind the drumkit appears, along with a switch to Sunn bins for side-stage foldback. In addition, the guitar and bass "monitoring" at each side of the backline beings using a full "stack" placed at each side of the stage to monitor each other's instruments — a bass stack (Sunn) at stage left next to Pete's four Hiwatt cabinets, and a Hiwatt stack and amp at stage right next to John's rig.
In addition, Keith began using headphones on stage in 1971 for certain numbers, which he taped to his head with gaffertape, so he could hear the backing tape for Baba O'Riley and Won't Get Fooled Again.
As the 1971 U.S. tour progressed, the Who ceased using the WEM PA, which became problematic for larger halls. Bob Pridden contacted Sunn and was subsequently connected with Bob Heil, of Marissa, Illinois, who had designed the Sunn Coliseum Series PA and was one of America's largest dealers of Sunn equipment. Heil had a PA flown from the Sunn factory in Tualatin, Oregon, to Boston. On Aug. 7, 1971, the Who debuted the new Sunn PA.
Roger (from the Concert File): "We spent all day today trying to sort out the problems we had last night and we'll probably spend all day tonight sorting out for tomorrow evening. We're using a new sound system … it sounds all right up here. How's it sound out there, all right?"
"The next thing you know everybody was calling us, and that's really how it all started. They needed to fill these auditoriums with sound, and we were the only ones who really knew how to do it. From there The Who contacted us. They were out playing through these dinky little columns and they were sounding terrible; so they contacted us and we got in behind Who's Next. This started the whole revolution, not just Heil sound, but the entire sound revolution."
MF:

How did you get involved with The Who?

BH: They hadn't been here in several years; since the late '60s. During that time, the level of concert sound quality came way up. They came over here with their little columns, like VocalMasters, if you remember what those were. Just little columns with four speakers in them. They had about six of these across the front of the stage. Think about that. Think about that. The Who playing through these little mixers with eight channels on them, and these little columns. The guitar amp was louder than that!

They came over (to the US) to do this huge tour, Who's Next, and they miserably bombed the first night. It was terrible. So their manager had heard about this sound system. We were working with Sunn — I was their largest dealer — and I was doing design work for them. We had just put together this monster system for Sunn. We hand-built this console, all point-to-point wiring.

So we were on tour with Wild Cherry in Chicago. The Who's people called Sunn because they'd heard about me and this sound system.

Sunn called me and said, "You have to get to Boston."
I said, "Yeah, OK. When?"
"Tomorrow."
I said, "Well, I'm on tour."
They said, "We don't care, we want you to get there."

They told me to rent an airplane if I had to. So we did, we rented a Tiger 707! Tiger was an air freight company back in those days in Chicago. I called a buddy of mine to come finish the Wild Cherry tour, and we flew all that stuff out to Boston. We set it up for soundcheck and blew them (The Who) out on the street. They'd never heard anything like it, and it changed the whole direction of The Who. Townshend was freaking out because they'd never heard anything that good, that loud, that big.

We did two complete tours, I think 36 dates each, then we went to England and toured over there. We played for about 200,000 kids in a cricket oval! From there we did some European dates, then came back here for more American dates with Who's Next.
The PA comprised:
16 JBL model 2440 wide-ranging compression drivers, each attached to a fibreglass radial horn.
16 front-loaded 1x15

″

cabinets.
8 1x18

″

woofers.
16 Sunn 300-watt RMS power amps.
Onstage monitors:
8 radial horn and driver combos
12 1x15

″

bottoms
6 Crown 300-watt RMS power amps
Mixing boards (stage-left, run by Bob Pridden):
Two custom-designed Mavis 15-channel mixer/control boards, one for the drums, one for the rest.
John Entwistle also began using the first iteration of his Sunn rig at this time, a 1,200-watt system, also designed by Bob Heil. It was not miked through the PA.
The Sunn PA was used through August 1971. By October 1971, Heil created Heil Sound, a manufacturing enterprise, along with his PA rental and retail business. A £20,000 Heil-built PA was used for the remainder of 1971, beginning with the Oval Cricket Ground, Kennington, South London, show on 18 September 1971, and featured:
32 front-loaded bass cabinets each with one JBL 2205 15

″

speaker.
4 mid- to high-frequency long-throw horns with JBL 2440 drivers.
32 JBL 2405 high-frequency tweeters.
12 Crown DC-300A 300-watt power amps.
Foldback, mixing desks and tape decks same as above.
The Who would continue working with Heil until 1975, when Heil retired from the PA rental business to concentrate on manufacturing.
"We got into the monitor thing out of necessity," Bob says. "Pete Townshend and Roger Daltrey really needed all this to happen, so we built them some massive systems. We started putting fiberglass in the speaker cabinets, because it wouldn't resonate like plywood or the other materials people were using. We wanted a really dense material to work with, and that's why we chose fiberglass — it gave us an edge up on the speakers themselves. But we had to do it in a big way. I remember when we did Madison Square Garden with Quadrophenia. We had more stuff on just the stage than most people had in their entire PA. It was enormous. I think we had, on each side, 6–8 15 bins, 6–8 radio horns, and probably about a dozen tweeters; we could get about 110–115dB on that stage before feedback. And The Who loved it, of course, because it was loud. And they were loud, if not the loudest."

The feat of amassing a system of monitors had been overcome years before, but there were problems still plaguing the team, and the entire world of sound in general, as Bob remembers. "The monitor was always the big problem. Nobody had really been able to make the monitor work before: They fed back all the time. You would have a mic about three feet from the monitor while these guys were playing louder and louder; and the next thing you knew it was total feedback city, and it seemed like nobody could get it all happening the way it really needed to happen."

The key, as Bob had learned much earlier on, lay in the realm of phasing. "Back in my ham radio days, around 1960, I had put up a monster antennae; 4 feet by 40 feet and hoisted 50 feet in the air. It was a monster antennae of 128 elements; different elements that all had to be phased. So I learned about phasing monitors through phasing antennae." Little did Bob know that in 1960, playing with radio frequency, that something would occur that would change his, and our, lives not much later down the road.

"I had brought in these monitors and started thinking 'wait a minute I can start playing with phasing' . . . and I did. We would run the microphones out of phase from the monitors, something that nobody had been doing yet. Since they were out of phase from the mics and the front systems, we could get these things incredibly loud before they would feedback." The key to the golden lock was phasing, as Bob relays to everyone he instructs. "That's one of the things that Jerry Garcia was really in love with. Our monitors were really something; and we got those guys into doing all kinds of phasing tricks with the monitors and mics. As you know, a lack of phasing equals no sound; so it's all very important — the placement of monitors, the types of microphones, and having it in the right phase or the wrong phase."
Courtesy the Concert File: Southampton Evening Echo 19 October regarding the 19 October Guild Hall, Southampton, gig:
"The Who must be regarded as the most exciting and loudest rock group in the world after attempting to pulverise the sound barrier in Southampton Guildhall last night. So intense was the noise that many of the 1,600 fans who swarmed into the hall had splitting headaches and numb or aching ears. During the two-hour performance the volume was so great from elaborate equipment worth £20,000 and last used at the Oval Festival, that some fans were crying. Undoubtedly, The Who proved themselves as the finest exponents of live rock music around — so why this solid wall of sound which screamed at you? Obviously rock music has to be loud to really get across but frankly this was ridiculous. It hardly seems good for the health to endure such a supersonic level. Someone sitting next to me had to leave for fear of being sick… despite the agony of the noise this was one of the best rock concerts I've ever attended."
Site contributor Justin Harris provided the following quote from Phil Burner, the Daily Echo photographer at the Southampton gig:
"it was one of my first photographic assignments at the Echo. I remember hiding just below the level of the stage so that my ears didn't hurt!
More photos from the Southampton gig:
Also from The Who Concert File, regarding the 29 October 1971 gig at ABC Cinema, Hull, UK, as reported in the Hull Times:
The Who — louder than ever. Three five-ton trucks, a pink Rolls Royce and an assortment of other vehicles will roll into Hull on Friday, bearing the personnel and electrical accoutrements of the most exciting act in the history of rock and roll music — The Who. They hit the road 12 days ago, with an entourage resembling that of a travelling circus: a brand new £20,000 PA system, thousands of pounds' worth of lighting equipment, and a complete team of drivers, stage hands and technicians … On stage, under a battery of constantly changing multi-coloured light beams, the group our forth the kind of super-aggressive rock music which put them at the top and has kept them there for more than eight years."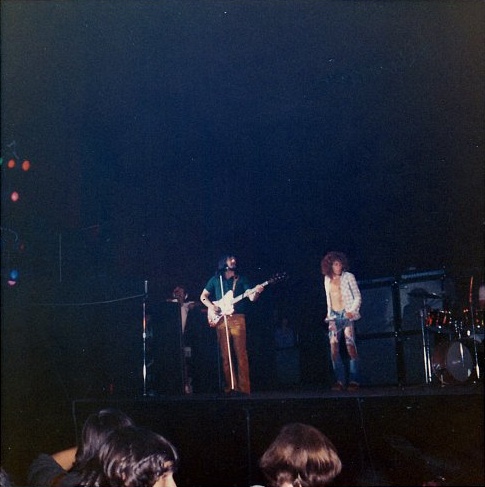 4 or 5 Aug. 1971, Music Hall, Boston, with final use of the WEM PA.
Late 1971 stage setup, showing Sunn stageside foldback and two Hiwatt column monitors behind the drumkit.
Ca. December 1971, San Francisco, with Sunn PA.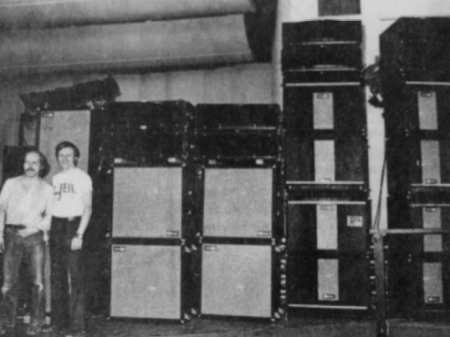 16 Aug. 1971, Bobby Pridden and Bob Heil in front of the new Sunn gear.
9 Oct. 1971, stage-right view, showing Sunn front-of-house PA stacks, as well as Sunn bin/horn foldback combo closeup angled off the backline, and Hiwatt foldback behind the drumkit.
Ca. December 1971, closeup view of stage, with first evidence of the use of a floor wedge visible at stage left. Sunn monitor stack at rear of stage next to Pete's Hiwatt rig.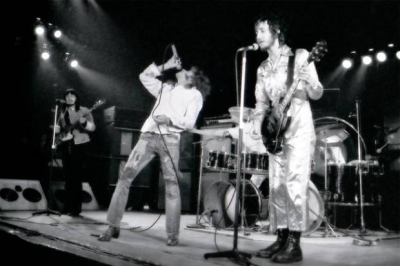 Ca. 1971, closeup view of stage, with early evidence of the use of a floor wedges visible at stage right. Sunn monitor stack at rear of stage next to John's Sunn bass rig.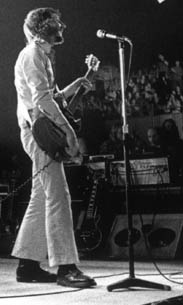 Ca. December 1971, San Francisco, view of stage-right floor wedge. Bobby Pridden looks on from the stage-right mixing board.
August 1972, sidestage monitor stack visible to right of Pete's Hiwatt rig. Front horn visible at far right.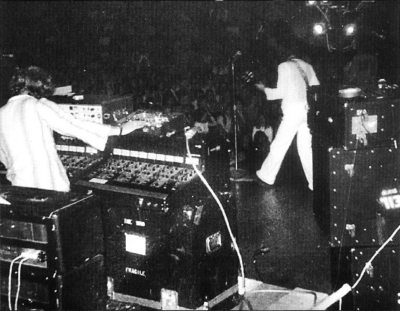 Click to view larger version. 21 Aug. 1972, KB-Hallen, Denmark, two Sunn Coliseum Audio Controller 8-ch. boards for foldback at stage left. At right can be seen Heil stencil on rear of sidestage monitor stack. WEM Copicat echo unit for tape echoes visible on top of right-side desk.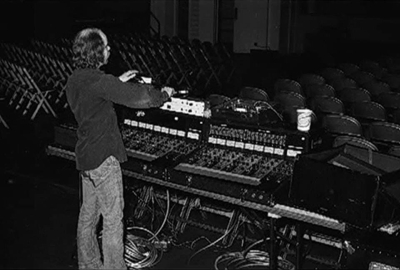 Click to view larger version. Bobby Pridden at front-of-house with two Sunn Coliseum Audio Controller 8-ch. boards. WEM Copicat echo unit for tape echoes visible on top of right-side desk. (Photo: SoundCityChris)
21 Aug. 1972, Kb-Hallen, Denmark, showing Hiwatt/Sunn "foldback" stack topped by Hiwatt CP103 next to John's rig, for monitoring guitar signal. Portion of rear panel of lighting control board visible at far left.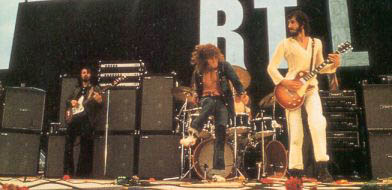 9 Sept., 1972, showing Hiwatt/Sunn "foldback" stack next to John's rig.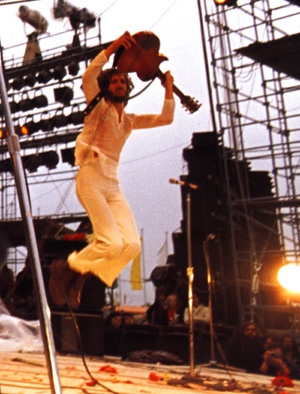 9 Sept., 1972, with three front-of-stage bins apparently set up as tilted foldback at stage-left.
Mid-1972 stage setup, 23 Aug. 1972, Stockholm, Sweden, showing four PA speaker stacks per stageside. (Note: opening act's gear is set up on stage in front of The Who's gear.)
Resources and Information
Acknowledgements
Special thanks to John Hughes (john@pureneasy.fsnet.co.uk) for assistance with this page.
Sources and related sites:
Articles
"Rock hall hails Heil's wizardry. Metro-east native created equipment for stars." From the Belleville (Illinois) News-Democrat (archived version), Tuesday, 9 May, 2006
"Bob Heil: A Living Live-Sound Legend," from Musician's Friend, May 2006
Guitar Player: The Who's Sound System. How it grew from 200 to 75,000 watts. By Steve Caraway and Tom Wheeler. November 1977.
Manufacturer's sites