Pete's Gear:

Lazy J amplifiers
Lazy J Model 20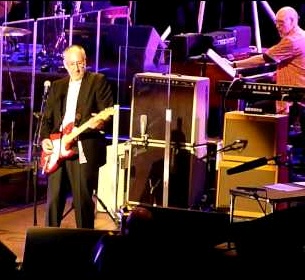 30 March 2010, at the Royal Albert Hall, with Lazy J "stack" next to one Fender Vibro-King combo/extension cab stack, and another Vibro-King facing toward the drumkit. Guitar is Fender Eric Clapton model Stratocaster.
Beginning with the 30 March 2010 Royal Albert Hall gig, Pete has used a Lazy J Model 20 amplifier and matching extension cab alongside the Fender Vibro-King amplifiers. (Vibro-Kings appear to also be on line, but shielded behind plexiglass.)
The amplifier is a copy of a tweed Fender Deluxe, and are made to order by Lazy J Projects in the UK. The amp is 18 watts, two channels, with one 12″ Celestion Blue Alnico speaker.
Lazy J Model J 40 3x10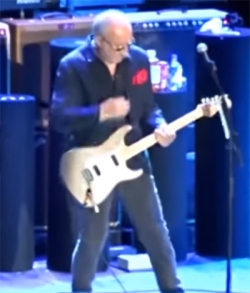 Click to view larger version. September 2016, Lazy J Model 40 visible next to Vibro-King.
Beginning with the 10 Sept. 2016 gig at Oberhausen, Germany, Pete has used a Lazy J Model 40 3x10 amplifer stacked on a Fender Vibro-King extension cab, in between his standard Fender Vibro-King combo setups.
The J 40 is a copy of a 1950s tweed 3x10 Fender Bandmaster and was custom-built as a prototype for Pete by Jesse Hoff of Lazy J amplifiers, and is available (as the J-35) from Lazy J Projects. The amp features four inputs (bright, normal), treble, middle, bass and presence controls, a push/pull boost, a tweed/blackface switch and sensitivity control.
Resources and Information
Manufacturer: