Pete's Gear:

1959 Fender Bandmaster Amplifier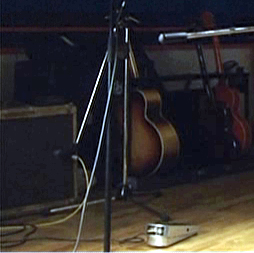 In the studio, ca. 1999, with the Edwards pedal visible in the foreground and a '59 Bandmaster is visible in the background.
Pete Townshend used a 1959 Fender Bandmaster amplifier with his Gretsch 6120 Chet Atkins Hollow Body to create the rich feedback-laden sound heard on virtually all studio recordings beginning with Who's Next in 1971. The entire rig was a gift from Joe Walsh in 1970, and consisted of a 1959 Gretsch 6120 Chet Atkins 'Hollow Body' guitar, the 1959 Fender Bandmaster 3x10 combo, a Whirlwind cable and the Edwards Light Beam volume pedal.
1959 Bandmaster specification
Narrow panel, diagonal tweed covering
3 x 10

″

/2.6 ohms (8 ohms each in parallel) Jensen speakers
26 watts
Two 5881 power valves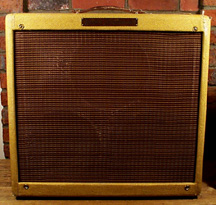 Generic 1959 Fender Bandmaster.
Selected quotes
All quotes and references are copyright their original owners and are included for reference only.
Excerpt from September 1993 Guitar Player
Guitar players have always known. You get the right Strat. You get the right guitar cable. You plug it into the right old Fender amp and you get the sound. I'm just taking a safe route there. There are lots of other chains that produce great sounds.

I remember when I gave Joe Walsh an ARP 2600. He went, [mimics Joe Walsh] "Pete. I don't know what to get you in return so I bought you a Gretsch Country Gentleman, like Neil Young uses. I know you don't really get into them, but you should try this. And I bought you a Fender Bandmaster amplifier with three 10s so the ohmage is crazy, and an Edwards pedal steel volume pedal." I linked it all up, went "Ya-a-ang" and it was there. When I get those three things out and put them in a chain, it's a sound from paradise. If I try to fuck with it and say, "Wouldn't it be interesting if I took the Gretsch and put it through a Zoom pedal," it doesn't work. It's got to be just that combination of stuff.

CG: You recorded some incredible music with that Gretsch.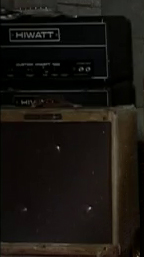 In the studio, ca. 2002, '59 Bandmaster, with Hiwatt DR103W visible in the background.
Excerpt from Guitar Player, October 1989
Do you have a favorite period in your career, where you feel you broke down what you regarded as guitaristic barriers?

I think the significant moments have actually had a lot to do with guitars, actual guitars. Like being given an orange Gretsch Country Gentleman [sic] and an Edwards [volume] pedal by Joe Walsh, and being told exactly how to set up the amp to produce that amazing Neil Young noise, and using that sound on "Won't Get Fooled Again" and "Bargain."
Excerpt from The Soul of Tone: Celebrating 60 Years of Fender Amps interview with Alan Rogan
[Note: Alan Rogan introduces a conflict of information here about which amp(s) Pete used for the recording of Won't Get Fooled Again. He also indicates the Edwards volume pedal was a Goldrich (perhaps meaning Goodrich, a popular pedal steel volume pedal manufacturer.]
A mighty roar of exhilarating music, the epic Who's Next was released in the summer of 1971. It's invariably listed among the greatest albums of the entire rock era, and it electrifies new generations of listeners to this day. Alan Rogan: "We still have the same setup that Pete used on Who's Next: the orange Gretsch 6120 that Joe [Walsh] gave to Pete, a tweed Bandmaster with three 10s, and the powered Goldrich volume pedal — Goldrich being Manny Goldrich, from Manny's in New York. You can hear two distinct guitar sounds on Who's Next. One is the Gretsch, and the other is Pete's SG. He also had a Twin and a Bassman — I'm guessing it was a blonde, early '60s — and he used the Gretsch guitar with the Twin and the Bassman on 'Won't Get Fooled Again.'"
Resources and Information
Manufacturer
Fender: fender.com
More Information