Pete's Gear:

Grampian Reverb unit
Pete Townshend's Grampian spring reverb unit
In 1966 and 1967, Pete Townshend used a Grampian spring reverb unit on stage and in the studio as an overdrive/distortion unit.
Quote from Pete Townshend
All quotes and references are copyright their original owners and are included for reference only.
From Guitar Player, October 1967
GP: Do you use any special equipment?

Townsend[sic]: I use a Granpiene [sic] reverb unit for distortion; it gives a kind of clear fuzz dirge. I like a slightly broken guitar sound.
Photo Gallery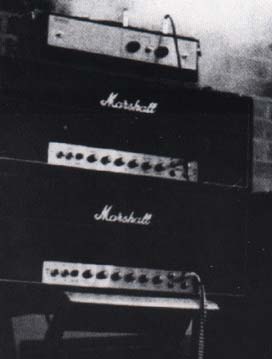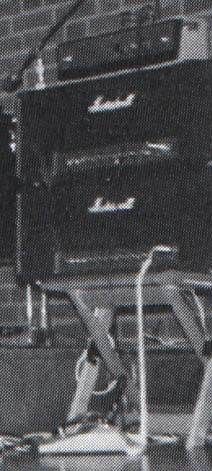 Closeups of Pete's Grampian Reverb unit along with Marshall Supa Fuzz pedal. Amplifiers are Marshall Super 100s.
Ca. 1967, in the studio, with Sound City L100 head, topped by a Grampian Reverb unit. Guitar is 1965 or 1966 mapleglo Rickenbacker 360/12.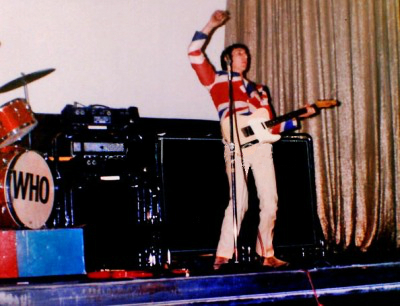 March/April 1967, the first U.S. dates. Two Super Beatles, with speaker cabs arranged stage left, and two amp heads on separate roller rack, plus Grampian reverb unit for overdrive. Pete's guitar is Fender Telecaster, with unknown spare guitar in front of drum riser.
Click to view larger version. Ca. 1967, two customized Sound City L100 amplifiers; topped by the Grampian reverb unit.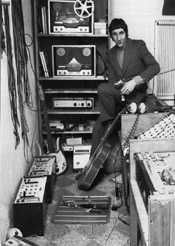 Click to view larger version. Home studio, 1967, with Grampian reverb unit on third shelf from bottom.
Generic Grampian spring reverb unit
A Grampian Reverberation Unit Type 636 was sold in February 2005 via eBay for £244.89. Photos and description courtesy Paul Guiver of Maidstone, Kent, UK.
Item description:
Unit has balanced and unbalanced inputs.
Two auxiliary channel inputs – 10mV/50k ohms and 500mV/1M ohm.
Output 1V 600 ohms.
Has an input for remote switch.
All connections are 1/4″guitar jack.
Inputs and outputs are all compatible with guitar and amplifier setups.
Original flip-down lid and case.
Controls:

Power/Off toggle switch.
Reverberate (with overload jewel indicator)
Aux. Channel (paired with 500 mV 1M Ohm and 10mV 50K Ohm inputs)
Mic. Channel (paired with Balanced and Unbalanced inputs)
Photo gallery
Generic Grampian spring reverb unit photos
Photos courtesy Paul Guiver of Maidstone, Kent, UK.
Photos of two generic Grampian Reverberation Unit Type 636s — one identical to Pete's model, and one customised for studio rack mounting (with other internal modifications, including jack connections replaced by XLR connections; mains connection replaced with Cannon plug connector; two line-balancing transformers fitted to input and outputs; wooden casing removed).