Pete's Gear:

Danelectro Guitars
In 1965, as the Who's stage act began to demand instrument destruction on a regular basis, the group could no longer afford to have Pete smashing the relatively flimsy and very expensive (£200+) Rickenbacker guitars, as they weren't easily repairable. So, for the finale, Pete usually began switching to another guitar for smashing, often the very rugged Fender Telecaster or the very inexpensive Danelectro guitars, including the Guitarlin Longhorn 4123 model and the Standard Shorthorn.
Danelectros in general featured lipstick-tube pickups, bolt-on necks with Brazilian rosewood fingerboards, masonite/poplar frame bodies. The Longhorn Guitarlin model 4123 with which Pete is seen featured 31 frets, "Coke Bottle" peghead, white-to-bronze sunburst finish, concentric pointer knobs.
Danelectro's subsequent parent company, MCA, would go on to make Coral guitars as well, which Pete used on stage as well as in the studio.
6 Aug. 1965, on Ready Steady Go!, playing a Danelectro Standard Shorthorn, featured on Beat Instrumental magazine, December 1965.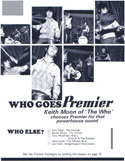 Click to view larger version. "Who Goes Premier" ad featuring Keith Moon, from March 1966. Details of Pete and John using Danelectros in 1965, Pete with long horn Guitarlin, John with Long Horn bass.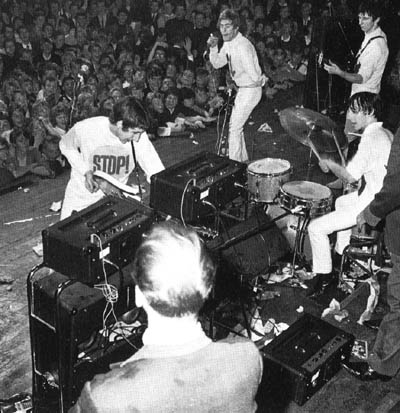 September 1965, spearing a Danelectro Guitarlin Longhorn into a Vox AC-100 cabinet.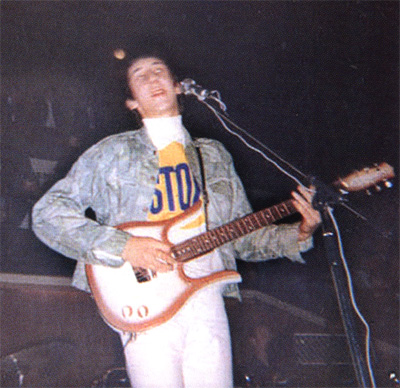 September 1965, with Danelectro Longhorn Guitarlin.
6 Aug. 1965, The Who appeared on Ready Steady Go! at Wembley Studios in London using borrowed gear as their regular gear was already in Richmond for the 5th National Jazz & Blues Festival gig that night. Pete is seen with a Danelectro Standard Shorthorn. And both Pete and John are using Vox AC-30 combos.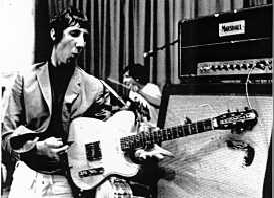 7 June 1966, Odense, Fyens Forum, with Fender Telecaster fitted with a Danelectro coke-bottle neck, being introduced to Marshall stack.
Resources and Information
Manufacturer:
General Danelectro info: