Pete's Gear:

D'Angelico New Yorker
Pete Townshend used a D'Angelico New Yorker archtop guitar on Rough Mix in 1976/77 and Who Are You tracks Music Must Change and Who Are You (middle break only) in 1978. The guitar also appears in the 1982 Chinese Eyes photo sessions.
In 1989, he sold this guitar (along with the 1958 Gibson Flying V, among others) to buy a boat.
New Yorkers featured: 18″-wide body with x-braced top, triple-bound F-holes, black binding lines on body sides and sides of fingerboard, split-block fingerboard inlays, gold-plated parts, "skyscraper" peghead logo.
Selected quotes from Pete Townshend
All quotes and references are copyright their original owners and are included for reference only.
"I'm not really a true guitar connoisseur. I had a D'Angelico New Yorker until a few months ago, but I sold it to buy a boat. What used to make me swoon about that guitar was its look. I think the rest's all romanticism."
I bought two or three D'Angelicos, and started to really appreciate what a fine guitar really was. The acoustic solo in the middle of "Who Are You" is played on my D'Angelico New Yorker (also sold to help buy a boat!) and you can hear that I am playing eloquently at last…
Photo Gallery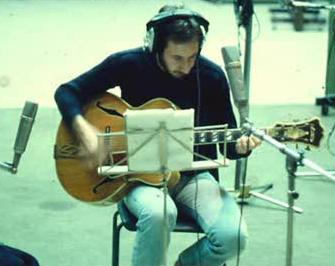 Ca. 1976/77, Rough Mix recording sessions at Olympic.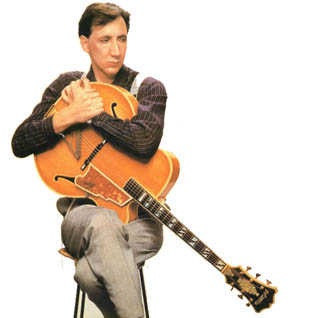 Ca. 1982, with Chinese Eyes photo session with D'Angelico New Yorker.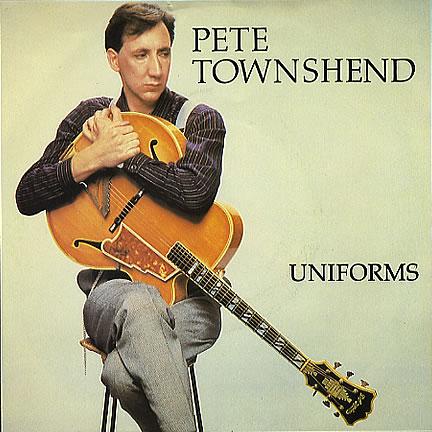 Ca. 1982, resulting sleeve for Uniforms 45.
Resources and Information
Links