Pete Townshend's Guitar Gear History
About this page
An overview of the guitars, amplifiers and effects that Pete Townshend used on stage and in the studio throughout his career, both solo and with The Who, from 1956 to the present. Includes a full history timeline as well as equipment detail pages on notable equipment.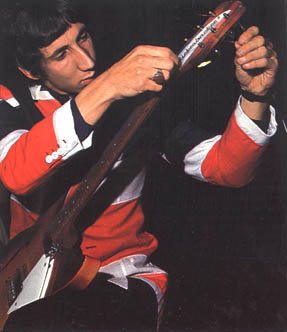 Introduction
I've received a lot of questions about this over the years and thought I'd put something together to answer all at once. I don't claim to be an expert on this, but here's what I know or have compiled from various sources (magazines, websites, interviews, etc.) over the years. Feel free to use this as a resource, but no guarantees on accuracy. This is by no means an exhaustive list. So, if you've got additions, corrections or comments, contact Whotabs.
Also note that these pages are under constant development since its start in August 1999, with new tidbits and information being added all the time. A special thanks to all who have contributed suggestions, information and/or images, without which this information could not have gotten to where it is today. Got a contribution to this page? Contact Whotabs.
Looking for Roger's guitars? Check out the new Roger Daltrey's Guitar Timeline.
Section navigation
This section contains many pages, but the primary page is Pete's Guitar Gear History – An Equipment Overview, a timeline of the guitars, amplifiers and effects that Pete used (and abused) throughout his career, starting in 1956 and going through the present. From this page you can link to detail pages for many of the items, or see photos of items that don't have further details.
Alternatively, you can navigate through each of the detail pages: